Starting in our Wintergarden Flight Centre in 1988 and then moving to the Ticket Centre Business in 1990,Allisa has shown her passion and dedication to each and every business she's been a part of for more than 30 years. She is currently one of the most senior leaders in Australia SWOT leading the Peopleworks Business and is admired by all those who report to her. She has had a long and distinguished career with the Flight Centre Travel Group and the past few years have been no exception. Taking out the directors Award in 2017, below is an excerpt of what was read out during the evening:
Allisa has continued to drive and develop her nation​ this year, creating motivated and passionate people ​who deliver amazing travel experiences.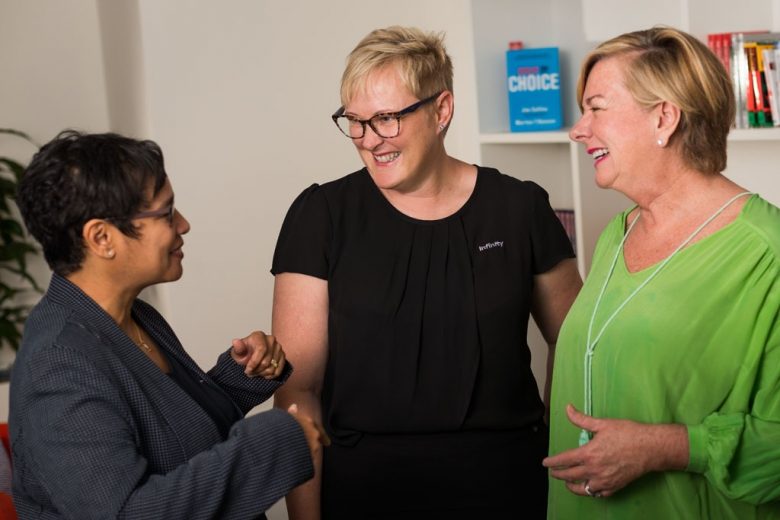 Throughout a year of massive change .. this person has re-engineered​ and redesigned their nation; ​they have driven substantial increases across profitability, productivity, NAC, CAC, as well as integrating new business​es​​. They are a leader, a mentor and a truly deserving recipient of this year's Directors Award. Congratulations to Allisa O'Connell.
Announcement for the Directors Award in 2017
Now, more than ever creating hope and having a cause to focus on gives us inspiration for our future. My focus as I take on this new responsibility is to celebrate the diversity we have within our organisation and give all diverse groups a vehicle for the 4 C that we focus on of Celebrate, Connect, Collaborate and Create Change.
What is your favourite FCTG Philosophy and Why?
Our People
Allisa O'Connell, Group General Manager, Infinity Holidays
Much has already been achieved through the investment in Womenwise and we have so much more to do. We need to remain focused on the cause of inspiring women across the FCTG network and encouraging women to step out and step up into leadership. As we re emerge from our hibernation state we will be a better and stronger business if we draw on our diversity to rebuild.
What is your favourite quote for inspiring women?
No one can make you feel inferior without your consent
Eleanor Roosevelt